Electropolishing Services
---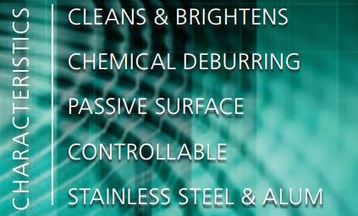 Electropolish | TCP

In use since the 1950's, Electropolishing is an electrochemical process that removes surface material and contaminants from the machining/forming processes. Well known for its ability to polish and or brighten finished parts, Electropolish also provides a number of other benefits – deburring capabilities, size control, improvement of microfinish, etc. – all resulting in a passive surface that is highly corrosion resistant.

---
---
Innovative Customer Tailored Metal Finishing Solutions
---
Twin CIty Plating Electropolishing

Stainless Steel and Aluminum capabilities…
Higher reflectivity on high nickel alloys (SS, Inconel, Kovar)…
Achieves passive nickel rich surface…
Promotes an extremely smooth surface…
Excellent deburring characteristics…
Limited to anode/cathode relationship – possible shadowing effect…
More difficult on intricate parts…
Possible burn through on thin walled parts…
Excellent on large parts…
Controlled metal removal…
Excellent for selective abstraction…

Tank Size: Electropolish
30" wide x 45" deep x 96" long

---
---
Passivation Vs. Electropolish
Passivation
is a process that uses an acid (nitric or citric acid) solution to remove the surface iron and other contaminants that cause corrosion in the Stainless Steel. Prior to an entering the acid the parts are cleaned to remove any oil and organics. Through the entire process an almost immeasurable amount of material is removed and leaves the chrome on the surface which oxidizes creating a very thin (less than .000001"thick) passive chrome oxide layer. While Electropolish uses a DC current along with an acidic bath to remove a measurable amount of the part along with the free iron and contaminants. Removal can be controlled from .0001" to .001" thick, but the removal rate will differ from area to area on a part due to differing current densities. Again a very thin passive chrome oxide layer is formed during the electropolish process just like the
passivation process
. However due to that deep material removal with electropolish, it has been proven to leave a more passive layer compared to standard passivated parts when ran side by side through a salt spray test. Since the electropolish process first removes material from edges and high spots (high current density areas) it will remove the microscopic peaks of a surface thus making the surface smooth, more reflective and creating a lower Ra finish. Hence the name eletro"polish".
A general rule of thumb is that electropolish can cut a surface Ra reading in half. However when the surface already has a low Ra finish (i.e. 12µin. Ra or below) cutting the Ra reading in half becomes much more difficult. We usually ask for several sample parts to run some tests to see if the desired Ra finish is attainable. All this talk of material removal during the electropolish process can also be used to remove microscopic burrs. This too can take several tests to successfully remove the unwanted burr without removing too much material in other tight tolerance areas. With several tests you may be able to cut costs and lead time using electropolish for your burr removal problems. In comparison
Passivation
does not remove any measurable amount of material. It will not smooth out any surfaces. It will not remove any burrs and the appearance of the part will look very much like it appeared before the process, just cleaner. Since passivation relies only the acid solution, it will be passive on every surface it touches. While electropolish relies on a DC current some parts may require a custom cathode to reach blind surfaces and corners. Different stainless steel alloys may require different solutions as well. So both processes have their pros and cons and are better suited for some parts and not for others. If you have any further questions or would like a quote please feel free to
contact us
or
request a quote
.
---
---
Articles