Finishing Expertise
---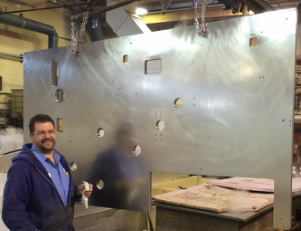 TCP
has specialized in
Electroless Nickel
for over 25 years. TCP has over 10,000 gallons of capacity on four lines with tanks and lifting capabilities to handle some of the largest Electroless Nickel plating projects. Working closely with suppliers, TCP has developed and tested advanced formulations of Electroless Nickel, providing customers with a more robust solution to their everyday metal finishing needs. Twin City Plating is a small plating shop capable of serving both small and large clients. Along with EN, TCP also provides
Anodize
,
Hard Coat Anodize
,
Electropolish
,
Passivation
, and
Hard Gold
Plating services.
---
---
Innovative Customer Tailored Metal Finishing Solutions
---
New & Advanced Technologies
As the times change so do customer requirements. Development of composite Electroless Nickel coatings on large parts, early adoption of RoHS compliance, and an eye on emerging technologies and new coatings have all been keys to TCP's success. The addition of Anodize and Hard Coat, Electropolishing, Passivation, and Hard Gold Plating have all served to expand
TCP's capabilities
to better serve its customers. Twin City Plating has stuck to its core focus which is, "Innovative metal finishing solutions with
exceptional quality
and unrivaled customer service." So as those customer requirements change we are right there to troubleshoot through a poor performing part or help publish a proper specification on a prototype print. With leadership and plater experience ranging from 2 to 25+ years we have the advantage of tried and true expertise along with individuals bringing a fresh perspective.
Our commitment to electroless nickel is one of a kind with four plating lines and over 10,000 gallons of varying tank sizes to meet your needs. And if we don't have the right setup to run your parts, we will build the tanks to run them. Unlike some platers we have a dedicated line for
plating electroless nickel on aluminum substrates
. On a daily basis we run High and LowPhos electroless nickel along with our TwinClad XT composite coating. We will setup and operate MidPhos EN and the long list of other composite EN coatings when the opportunities present themselves. Industry standard is to stay within a 30% window while maintaining bath chemistries. TCP tightened the parameters to 10% years ago and kept it that way when we consistently got better plating and better results. We currently run one and half shifts on a 21,000 SF facility and average less than a 3 day turnaround time on most jobs. We're large enough to run your high quantity order, but small enough that we can get your small project that's behind schedule processed and back to you ASAP.
---
A sampling of customers Twin City Plating is currently working with or has worked with in the past:
3M, Exxon Mobil, Bosch, General Mills, GE, Heraeus, Pentair, Boston Scientific, BAE, Graco, Honeywell, Lockheed Martin, Par Nuclear


---
Standard lead time is 2-4 days. Lead time will vary depending on the current schedule.
Same-day and next-day (24hr) service available - call for pricing and details.
---