Electroless Nickel Composite Plating Services
---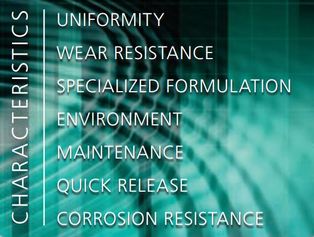 Electroless Nickel - TWINCLAD® XT COMPOSITE COATING
Twin City Plating (TCP)
has been working closely with its suppliers over the years to develop different composite EN coatings to provide customers with alternatives – helping to reduce costs, and increase their capabilities.
Give us a call
and we can discuss the specifics of the different options, to help find the best solution for your application..
The Challenge:
Develop an electroless nickel (EN) deposit that exceeds the release and wear characteristics of conventional EN composite coatings.
The Solution:
TwinClad® XT chemistry is formulated to deliver a low coefficient of friction and special performance characteristics ideal for injection mold applications including glass-filled resins and silicone rubber.
---
---
Twin Clad
®
XT Composite Plating
TwinClad XT is a proprietary formulation that was introduced to achieve a hard electroless nickel coating with a low coefficient of friction. The demand originated from the plastic injection mold industry to help solve poor part release issues and constant wear on their molds. However it has grown to solve countless issues in
many different industries
. The coating is a midphos. electroless nickel bath with boron nitride particles co-deposited into the nickel coating. The co-deposition of the particles helps keep the coating lubricious even as the coating slowly wears over time. Compared to your common post plating applications of lubricious materials that quickly wear away and need to be reapplied time and time again. Another composite EN coating is EN with co-deposited PTFE. TCP is capable of setting this bath up, but what we have found is that most customers prefer the boron nitride particles. This is due to that fact they can withstand higher temperatures then the PTFE particles, have a lower coefficient of friction and are a harder particle. Thus creating a harder and more lubricious coating all together. TwinClad XT has been used in the fire arms industry as a replacement for Nickel Boron due to it's lubricious properties. TwinClad XT can also come in the color black. Feel free to
request a quote
or
ask us about
your application to see if TwinClad XT is the right choice.
---
Tank Sizes: Electroless Nickel
36" wide x 96" long x 44" deep - 2000 lb. Hoist
36" wide x 108" long x 48" deep - 4000 lb. Hoist
18" wide x 120" long x 70" deep - 4000 lb. Hoist
24" wide x 144" long x 48" deep - 1000 lb. Hoist
48" x 60" wide x 144" deep - 6000 lb. Hoist
48" wide x 108" long x 96" deep - 6000 lb. Hoist
38" diameter x 132" deep - 6000 lb. Hoist
36" x 24" wide x 22ft long - 4000-6000 lb. Hoist


---
Innovative Customer Tailored Metal Finishing Solutions

---
---


Uniformity
Twin City Plating chemistry and process control guarantee accuracy to tolerances of 0.0001 inch.

Wear Resistance
Superior hardness and pore-free deposit qualities increase resistance to abrasion and adhesive wear for longer coating life.

Specialized Formulation
The unique coating provides significantly better wear and release properties without compromising hardness which makes TwinClad® XT ideal in the most challenging applications from glass-filled resins to silicone rubber.

Environment
Sensitive to environmental concerns, Electroless Nickel and the associated composites help to minimize waste and the impact on the environment.

Maintenance
Can be easily stripped and replated to replenish wear and release properties and maintain optimum production levels.

Quick Release
The lubricious coating provides an exceptionally low coefficient of friction for the high productivity of snag-free production and longrunning wear.

Corrosion Resistance
An undercoat of High Phosphorus EN will improve the corrosion resistance capabilities of the TwinClad® XT - protecting the base material.



---

---
Other Electroless Nickel Composites
Electroless Nickel (EN) composites have been used for many different purposes for a number of years. Given EN's amorphous structure, polymers and other non-conducting materials can be co-deposited providing capabilities above and beyond traditional EN. Teflon, Carbide, Diamond, Boron-Nitride – can all be used to improve the characteristics of the coating – Hardness, Lubricity, Corrosion Resistance, Abrasion Resistance, etc.
Black Electroless Nickel
Relatively new to the industry this is a post plating aqueous process that changes the color of the outer layer (5-10 millionths) of the LowPhos electroless nickel to a semi-glossy black. The part will carry the same wear and corrosion resistance as a standard LowPhos EN part, but it will be black. Black EN is a great alternative to black zinc or black oxide especially if corrosion is a concern. Sample and test pieces are required as substrate and surface finish of the part can affect the shade of black.
Silicon Carbide Composites
When your parts are in a highly abrasive environment with little or no lubrication Electroless nickel with co-deposited silicon carbide particles is what you want. Used in many different industries, but quite popular in the oil & gas industry it can drastically increase the wear life of your parts. Upon request TCP can setup to run a Silicon Carbide EN bath. Call or email for more information.
Diamond Composites
Sounds expensive, but it's not as bad as you think. This patented bath consists of tiny diamond particles (dust) that is introduced into the electroless nickel bath and deposited as the nickel is deposited to the part. Particle size can vary from nanometers to 8 microns and will be determined case by case. Diamond composite EN coatings will be significantly harder and more wear resistant than hard chrome and even silicon carbide composite EN. Upon request TCP can setup to run a Diamond Composite EN bath. Call or email for more information.
---
Articles
Two-Body Abrasive Wear of EN Composite Coatings - Twin Clad XT
File Size:
3493 kb
File Type:
pdf
Download File
---
Comparison of Electroless Vs. Electrolytic Nickel Deposits
File Size:
423 kb
File Type:
pdf
Download File
---