About TCP
---
Twin City Plating (TCP)
has been providing
metal finishing services
in the upper Midwest since its inception in the 1930's. During the mid 1960's, then Twin City Chromium Plating Company, moved to its current location. With the assistance of engineers at some of TCP's top customers, the new facility was designed specifically for plating and metal finishing.
---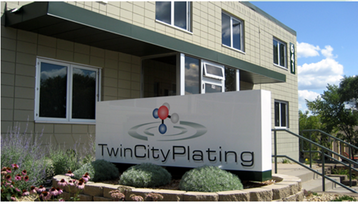 Our Goal
Provide customers with a trusted source for their metal finishing needs by way of innovative solutions,
exceptional quality
, and top notch customer service.
Finishing Expertise
Specializing in Electroless Nickel
, TCP has tanks and lifting capabilities to handle some of the largest projects.
Markets Served
Twin City Plating serves precision machining and manufacturing companies across a
wide array of industries
.
Our Commitment
With ever changing regulatory requirements, TCP is dedicated to the continuous improvement of its waste management practices. Providing a safe environment for employees and taking notice of the environmental impact – it is not only a necessity but a duty.
---
---
Innovative Customer Tailored Metal Finishing Solutions
---
Focused
Specializing in Electroless Nickel (EN) plating and composite formulations.
Expert
We serve as consultants and project managers to add value and reduce costs of plating and finishing requirements.
Agile
We are adept at finding solutions, tackling difficult applications and adapting to meet customer needs.
Responsible
Our operators – trained experts – are committed and motivated to provide our customers with the exceptional quality and service.
Experienced
With over 100 years of combined plating experience under one roof, we've done just about everything. And done it well enough to be in business for over 80 years.
Committed
We remain diligent in the continuous improvement of our environmental safety practices and procedures - by way of advanced technologies and attention to detail. We're also committed to Quality being ISO 9001:2015 Certified
Inventive
We have developed along with our suppliers, advanced formulations of Electroless Nickel, including out TwinClad XT - which delivers exceptional release properties, and wear characteristics across a number of different applications.
---